Lords & Knights Bot v3.9
Lords & Knights War v3.9
Steps of update:
1. Download the v3.9 setup files and Install as normal, it will auto-update the old versions to v3.9.
2. Your config game settings will remain the same.
Changelog:
-updated to specs of the web browser client (v6.14.3).
-this release includes improvements for trickling.
-fixed a crash caused by wrong game encryption.
-fixed the unit count calculation caused by too many of unit transits.
-fixed an error occurring on a few game servers when you using the trickle feature.
Go to Download page for the Setup files.
make sure you will run the programs as administrator to eliminate the "no season" errors: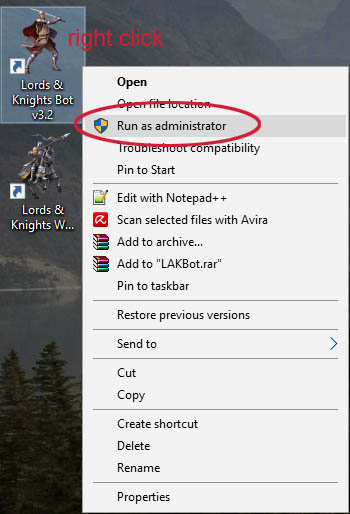 More news coming soon! Stay tuned! And don't forget to subscribe on our Newsletter so you can get notified for new updates!
Enjoy!


If you like my work then consider to buy me a coffee, it keeps me awake while I develop and it's always appreciated!