1.0 General Options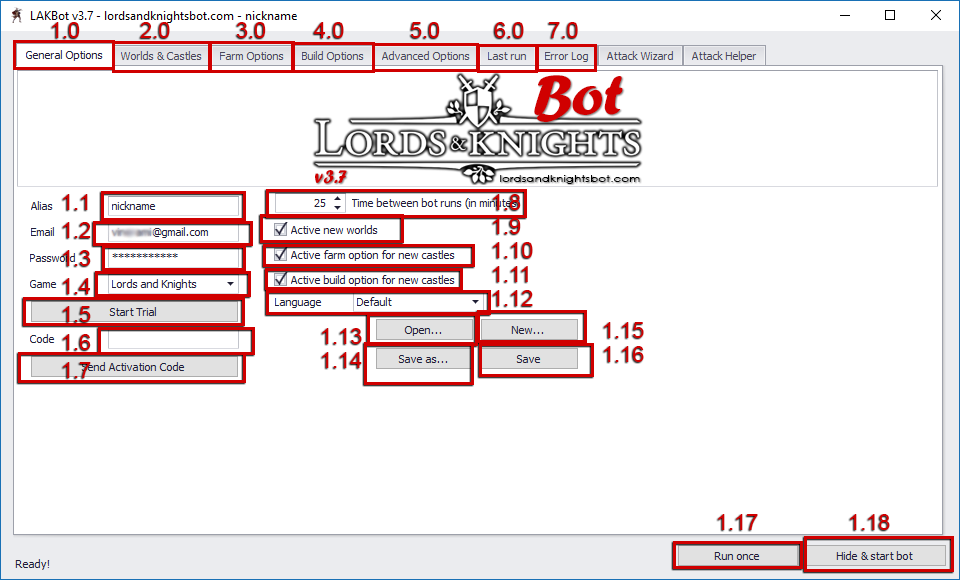 1.1 Alias: add your nickname here
1.2 Email: add your game email account
1.3 Password: add your password
1.4 Alliance Help: Choose "Yes or No" if you want the bot to automatically help your alliance member to grow 1 point every 20 minutes after they lost a castle
1.5 Start trial: if this is your first time that you are running and trying the LAKBot program then you need to hit that button first.
1.6 if you decide to help me keep this project alive and donate me then this is the box that you need to add the activation code that i send you
1.7 click this button to send the activation code to my license server. the activation code is for only 1 use. it registers your game email address. that means that you can download and use my programs on different PC/Laptops without a problem. the registraton is on the email adress and not in the program
1.8 every X minute the LAKBot program will auto-connect and build your empire for you. define the minutes on this box
1.9 if you join a server then the Lords and Knights Bot automatically will start building your castle on your new server
1.10 if you capture a new castle/fortress/city the LAKBot program will automatically will use that new castle to farm free castle
1.11 if you capture a new castle/fortress/city the LAKBot program will automatically will start upgrading it's buildings
1.12 choose your language, supported languages so far: English, Español, Deutsch, Português, Arabic, Russian
1.13 Open..: let you open and load a settings file .xml for the LAKBot program. the default file is: Data.xml
1.14 Save as..: if you use multiple accounts then you probably need to save every account on a different file for easy loading and running. use this to save the settings to a different filename.xml
1.15 New..: will reset your settings and then you can start fresh for setting up your new account settings
1.16 Save: save the corrent settings to your corrent opened file.
1.17 Run once: it will connect to your server and it will build / recruit / farm / etc.. for 1 time
1.18 Hide & start bot: it will hide the LAKBot program to the taskbar (next to the clock) and the first time it will connect it will be after the XX minutes that you specified on the 1.8 chapter, and it will keep reconnecting every X minutes, depending on what you have set on "1.8" chapter

2.0 Worlds & Castles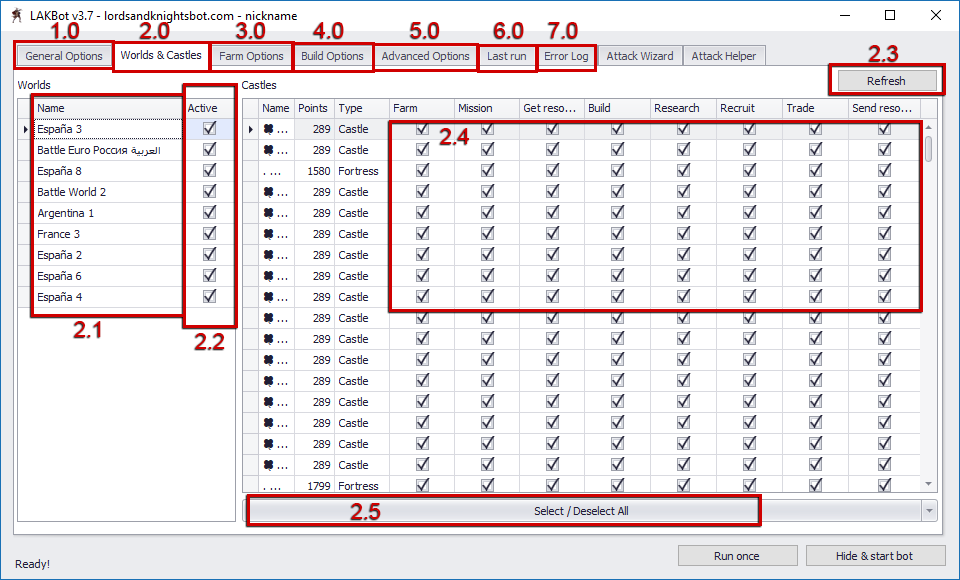 2.1 if you click the 'Refresh' button then you will see all the servers that you are playing on
2.2 tick what servers you want the LAKBot program to connect and build your castles / farm / recruit / etc..
2.3 it will connect and it will add all your servers and all your castles into the LAKBot program.
2.4 from here tick / untick of what the specified castle you want to do. if you don't want your Castles05 to farm then untick it
2.5 for fast selecting / deselecting then click this.

3.0 Farm Options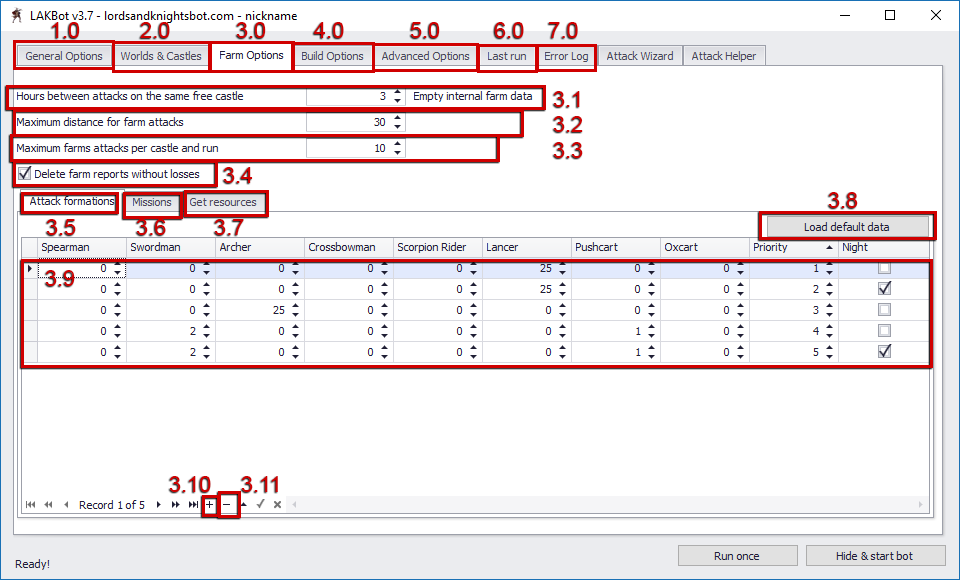 3.1 add here every X minutes you want to re-farm the same free castle
3.2 how far you want your castle to send the troops for farming free castles? add here the fields
3.3 this is the limit of farm that the LAKBot program will execute on every run. if you add "30" then it will execute 30 total farming attacks on every run.
3.4 tick this box if you want to automatically delete the green reports from farming attacks.
3.5 Attack formations tab.
3.6 Missions tab.
3.7 Get resources tab.
3.8 Load default data: it will load the default farming attack formations.
3.9 choose the troop type and troop numbers for the farming attacks. tick the "Night" column if you want to farm in night mode.
3.10 press the "+" button to add a new row.
3.11 press the "-" to delete the selected rows

4.0 Build Options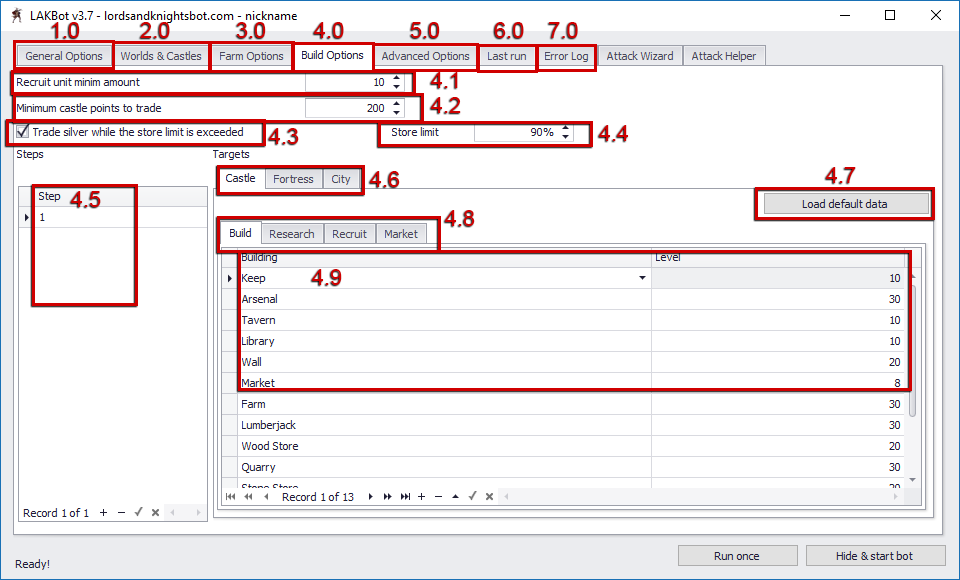 4.1 add the minimum troops you want the LAKBot program to start recruiting.
4.2 add the points of your castles that you want to start trading resources for silver / copper.
4.3 tick this if want the LAKBot program to start trading resources for silver if you have more than X% resources
4.4 add here the percentage of the resources that you want to start trading silver. if you can hold up to 9999 wood then and if you set this to 80% then it will start trading silver the excedded resources and it will always keep your storages to 8000 wood.
4.5 from here you can create many steps, depends on how you like your empire to grow. personally i like only 1 step.
4.6 choose the tab for Castle/Fortress/City
4.7 it loads the default settings of the LAKBot program. if you are not sure how to setup this or you have screwed something and your program doesn't build up your empire then click this.
4.8 choose the tab for Build/Research/Recruit/Market
4.9 change this according to your needs and your preferences.

5.0 Advanced Options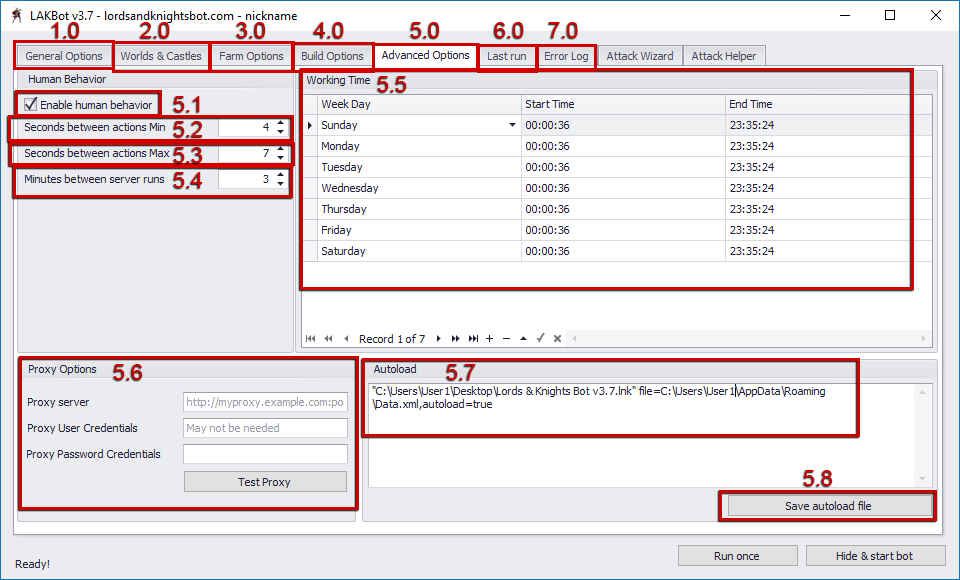 5.1 if you want the LAKBot program behave like a human being then tick this option.
5.2 everytime the Lords and Knights Bot connects it sends commands to execute the recruits/upgrades/farms etc.. add the minimum human seconds that you think the humans do.
5.3 same as above but this is the maximum value. it means that you don't want to wait for more than X seconds to send a command.
5.4 how many minutes the Lords and Knights Bot must wait to connect on your next server.
5.5 working times: the day starts 00:00:01 and ends 23:59:59. so if you want to look more like a human being and not a robot then you can't connect to the game 24/24 hours a day, choose the days and the start time and end time of the hours you want to let the LAKBot program to connect to the game. probably most of people are playing between 08:00:00 the morning till 22:00:00 in the night. you can set this as you like.
5.6 proxy options if you want to use a proxy and connect to the game with a different IP address.
5.7 this is Beta and is still not implemented yet to work properly.
5.8 this is Beta and is still not implemented yet to work properly.

6.0 Last run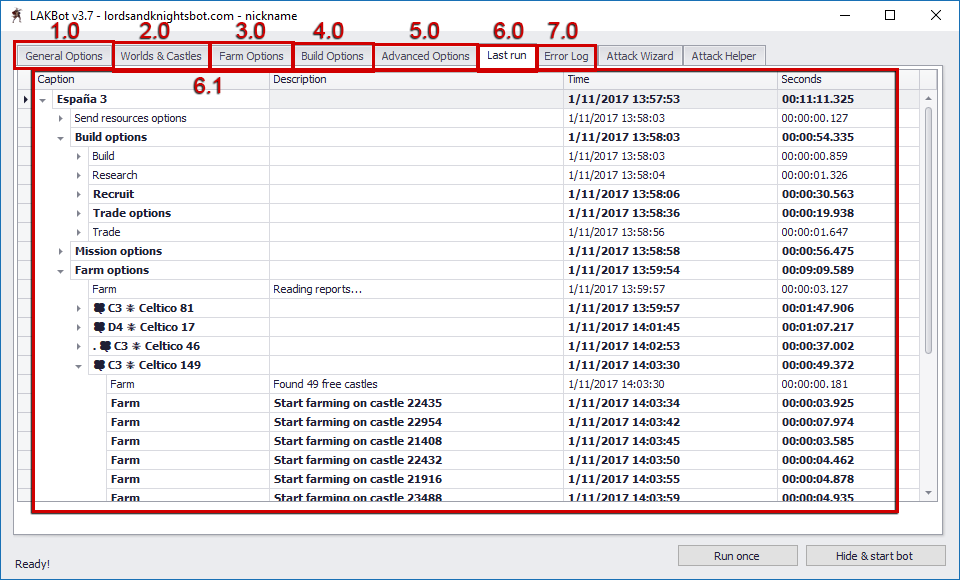 6.1 information tab of what the Lords and Knights Bot upgraded/builded/farmed etc, on your account. all the information are here.

7.0 Error Log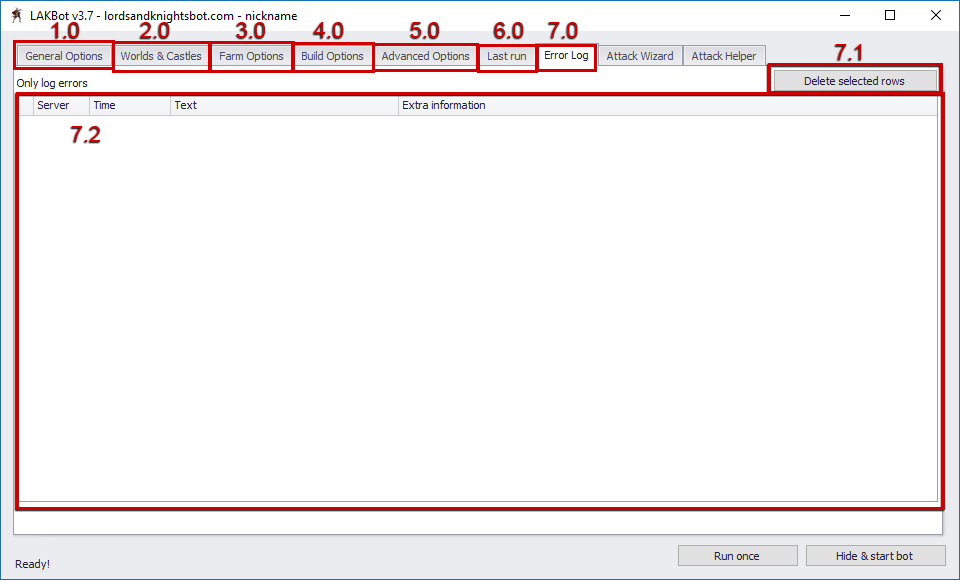 7.1 select the rows you want to delete and click this button.
7.2 if you have errors then they will appear here.



If you like my work then consider to buy me a coffee, it keeps me awake while I develop and it's always appreciated!

Got a question? Leave a comment: